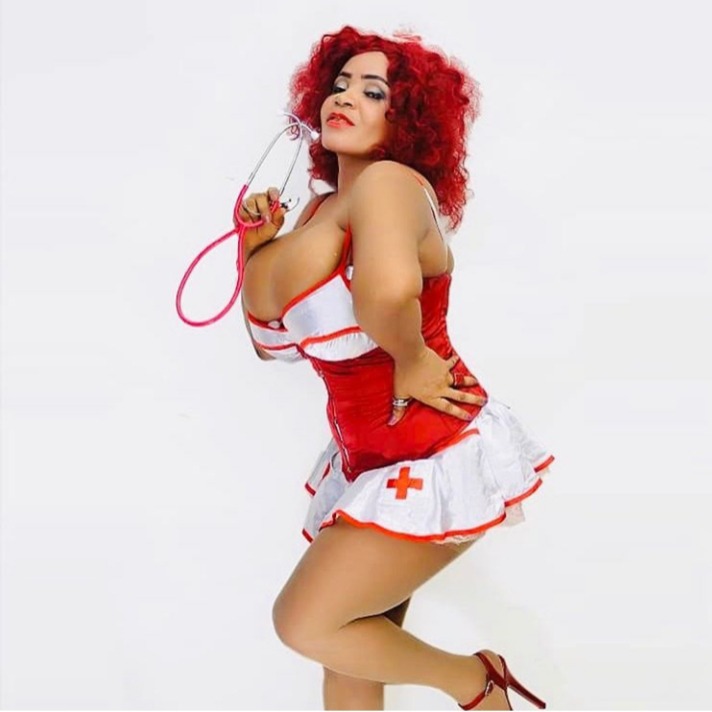 It's no secret that Cossy Orjiakor doesn't hide her God's gift. After almost 20 years in the entertainment industry as an actress and video vixen, with a string of tabloid-baiting moments, the thin-voiced wannabe singer has acquired a reputation for being surly, formidable and downright difficult. The pseudo-celebrity cannot just be ignored. She is a usual suspect when it comes to controversies and waywardness. Her whole career is built around controversies.
While it is easy to believe celebrities don't have weird compulsions or bizarre behaviours, Cossy definitely have them in packs. She always has a punch to land on her fans' faces and the media world. She has decided to live and breathe sexuality, and has in fact found it difficult to present herself in a conscientious manner.
Her obvious unique selling point is her super-sized natural endowment which almost popping out of her clothes all the time and the assets she ceaselessly pays glowing tributes to which has fortuitously become her passport to stardom.
"This is the best booby trap… booby clap in the world. My selling point. Argue with your ancestors. 100 per cent natural, ageless, timeless fresh milk. NAFDAC approved," she said boastfully during a chat.
It is believed in some climes that well-behaved ladies seldom make history. This might be true in today's hypersexualised culture where scandalous behavior is rewarded. Some are more infamously-nasty than others but it's amazing how successful trashy, moral free women can be in a society even including Nigeria.
Some pundits have even expressed concerns on why the world value women as sexual objects but then tear them down for enjoying their own sexuality. This best explained the circumstances of Cossy, an accounting graduate from the University of Nigeria Nsukka.
For Cossy, who started off as a go-go dancer in some earlier music videos of Fuji music star, Abass Akande Obesere, flaunting her boobies with a few display of erotic moves got her the desire attention and she started getting roles in the movie world. And then some backlashes that come with stardom.
Cossy has seen some shit. She has definitely heard some shit and that's not likely to end soon. But somehow, Cossy seems to be growing more famous or notorious depending on the side of the divides you are. But it's so hard not to feel for Cossy because of her famous and well-documented infamous antics.
The free-spirited Anambra State-born actress obviously has a body — particularly her big droops— not many girls have and it has lead to attention from men. She has had to understand self worth and has never given herself such a hard time over what people feel about them. She is taking advantage of her so beautiful, huge delectable derriere to create both positive and negative sensation around her brand.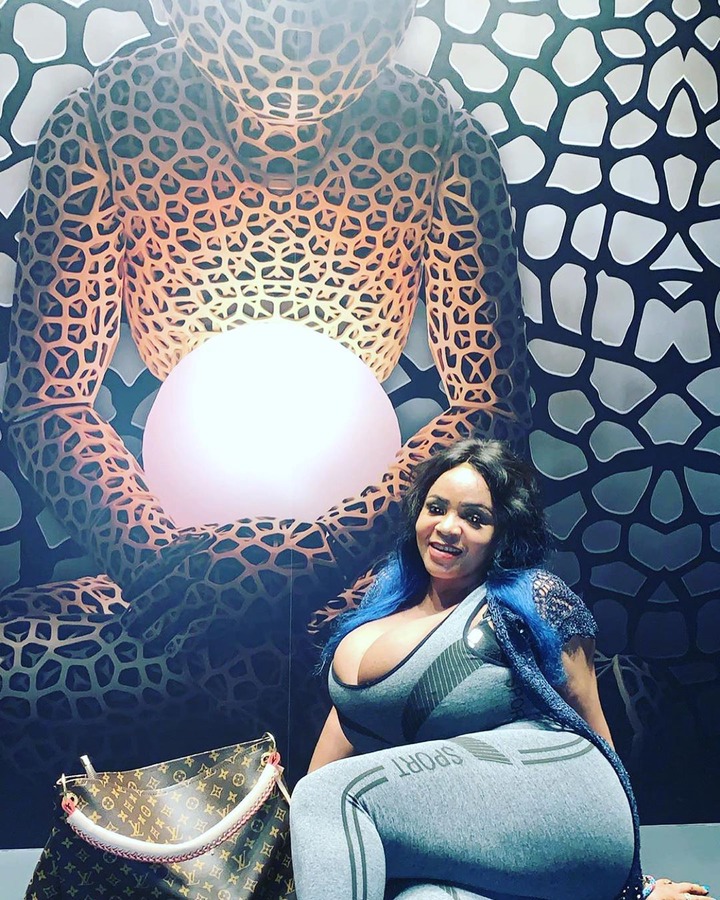 On the pervasive social media, the erotic dancer has turned herself to a clickbait fetish object and no longer inhibited in giving her fans hot pictures as well as steamy sexy videos of herself twerking her ass endlessly and flaunting her milk factory which she fondly refers to as Jane and Janet.
Cossy knows a lot of men out there fantasize about her body. She feels cool about that and obviously enjoys setting the social media on fire as she habitually uploads sexy videos of herself getting real with her large-sized boobs which mostly fall into her armpits. "This is the best natural titty in the whole world so big I can't see pass it," proud Cossy said of her voluptuous boobs.
Till date, the actress has become an object of fascination and lust among music fans and gossip blogs. But in all, she is dealing with the social explanation of a "slut stigma".
Always unhindered when chatting both online and in real time, the busty and tiny-voice video vixen's career nearly got busted when she played a character where she purportedly had sex with a dog in the Chico Ejiro's 2009 controversial movie, Itohan.
The Lucky Ewa's produced movie was Cossy's introduction to big scandals and controversy as it made headlines not for its campaign against human trafficking but for its many steamy scenes. The negative vibes generated by that "dog scene" almost got Cossy's career ruined with the backlash and attendant disgrace which nearly pushed her into committing suicide.
She, at that time, felt betrayed by the producers of the movie who ought to step up to clear the air on the true situation of things, rather kept mum while the assault on her person drew more attention to the movie.
"I felt bitter over that. It made me to just decide to go underground as everybody was then abusing and deriding me," Cossy told this writer how bitter she was at that time. "Even in my village, I became a subject of gossip and it really affected me so badly. I became a subject of preaching in churches and my late parents were also feeling the heat and the producer who ought to come out to set the record straight was saying something else. It was crazy. If I wasn't strong, I would have even committed suicide as the heat was too much and unbearable for me," she said with a grin on her innocent pretty face.
Suicide? Was the situation so bad? Yes, it was so grim for Cossy, as she claimed that some people she looked up to, join the fray to tar her in some unimaginable colours.
"My late father wasn't spared either. He knew I was merely acting and so never really cared. But it got so bad that in my hometown, people gathered and were discussing the issue and raining curses on me. They were accusing me of bringing immense shame to the church and the village. Many feasted on the photoshopped images that were in circulation and the jobs stopped coming. I was hurting and that led to my withdrawal from the public space."
She indeed withdrew to her shell and avoided the movie locations for some years to focus on other areas of her life including her new found love of erotic display of her natural endowed on the social media.
To some, Cossy might be engaging in all those steamy stunts to mask her frustration as she battles to really define who she is. But she never really had any hassle about what the naysayers think. "I do actually care about what people say about me but I don't care about what biased people say about me," she quipped.
Nevertheless, strong diverse opinions have been formed about her ways of life.
While some see everything as showbiz —she already took advantage of her growing followers on the social media to launch an online TV series titled "I Don't Care" on her YouTube Channel where she always bare it all— others argue Cossy's acts are nothing but sluttiness.
To the latter, she is exhibiting her worst side on the social media probably to affect her social interactions in real life. They see almost all her slovenly posts as nothing but debauchery and pure slutty behavior.
"Where do you think this girl get her money? Remember the allegation that Cossy engaged in pimping actresses and other girls for rich men including a certain popular pastor? What do you call that? Is that showbiz?" one notable entertainment journalist with one of Nigeria's mainstream newspapers told this writer.
Of course, Cossy herself once tactically admitted to be engaging in arranging girls for interested loaded guys in exchanging for handsome dough but didn't agree she is into pimping as business. "I can only remember of a particular guy who always pestered me that he liked certain actresses or girls, and I assisted in arranging them for him," said Cossy who had a bum surgery in 2017.
She claimed to have made her money from her property development business —which fetched her posh home in the swanky Lekki axis of Lagos and top-of-the-range autos in her garage— while the rest comes from moonlighting as actress and singer.
But while the argument rages on the classification of what she does, seasoned journalist and Entertainment Editor, Nigeria's THESUN newspaper, Tosin Ajirire, noted that inexplicably Cossy loves being on the spotlight albeit on social media where she spends an astonishing amount of time but everything she does is all about showbiz.
"The truth is Cossy has been a force to be reckoned with in the Nigeria's entertainment space as a video vixen and actress. She has created an identity for herself through her raunchy dressing and erotic moves on her social media platform. She understands that in the showbiz industry, sex sells and she latches on that to make ends meet. Call her hustler but that's legitimate hustling in the real sense," Ajirire told this writer.
Corroborating Ajirire's submission, Arinze Alinnor, managing editor of Lagos-based evening newspaper, P.M.EXPRESS (www.pmexpressng.com) sees it same way but with a deeper perspective.
According to him, "it is common for people to look at unusually or uncommonly sized ladies and make jest or throw jibes at them. Most ladies suffer inferiority complex when they appear out of the normal in the estimation of the society. Some are withdrawn and shun public appearances so that they will be spared from public gossips.
"It is rare for people especially ladies to be comfortable to mix with others in the social circles when they are perceived to possess something considered odd. So for Cossy, she needs to be applauded for turning around something that ordinarily should have made her shy away from the public glare into an asset and unique selling point."
Allinor however gives a caveat: "Not that it is very OK for one to appear scantily clad publicly especially in our clime, but when one looks at her chosen career, Cossy is just freely expressing herself; it's showbiz."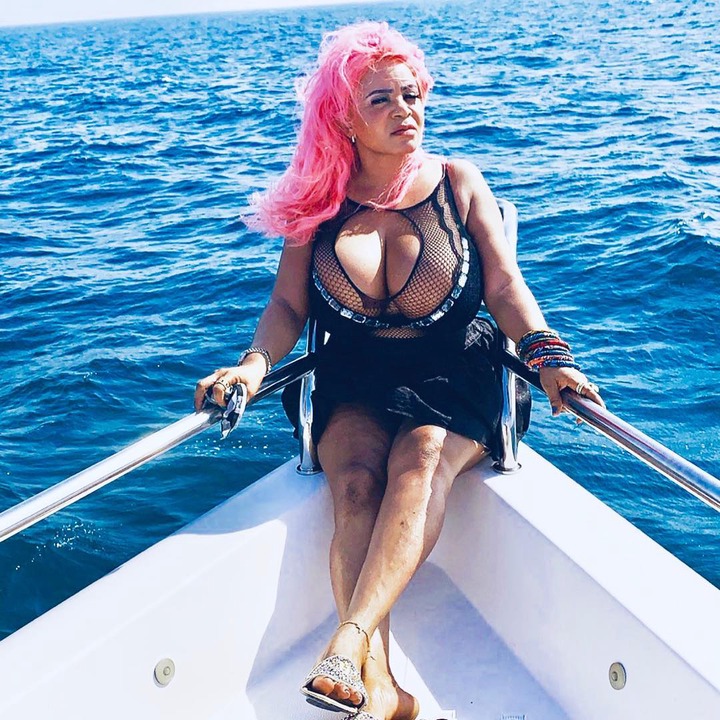 To be real, Cossy's big breasts have indeed opened doors for her. While there was an unconfirmed report that she was offered "tons of money" to do a soft porn film but turned it down, she has however been hosting All-Girl steamy pants parties with her daring friends in attendance at various locations in Nigeria and abroad including a recent swimming pool sexy soiree in Dubai, United Arab Emirates.
Cossy was also said to be planning another erotic gig in mid-December tagged "Cossy & The Girls…Nautical…raunchy Yacht party" somewhere in Lekki, Lagos where scores of her daring friends –male and female– are expected in attendance.
To her, this is another avenue to grow the entertainment industry and pays less attention to how whoever classifies her moves!
Source: PM News